Visual Graphic Design NCIII
From Zero to Hero. Learn Visual Graphic Design
All for Free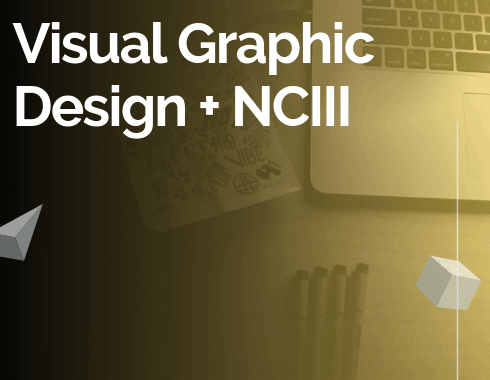 The course provides a comprehensive practical graphics design skill for various media outlets through the advanced and focused Visual Graphics Design in various software applications (such as Illustrator and Photoshop). Create graphic materials for print and electronic media. Learn current practices and enhance skills through continuous update of applications used by major corporations locally and internationally. Learning program ensures above-industry standards as well as work related competencies that augments communication skills, teamwork, and problem-solving capacities.
• Develop design studies
• Create vector graphics using a graphics application
• Create raster graphics using a graphics application
• Develop designs for print media
• Develop designs for electronic media
• Develop designs for product packaging
• Develop designs for booth and product/window display
Anyone who has the passion for Design and wants to learn Visual Graphic Design.
Delivery of the topic was very good. Staff were very nice and accommodating. Facilities are clean and cozy. Overall, its a great experience. I learned a lot on this MOS training. will surely enroll for other courses in the future.
Erika Charlene Morco
wow its very nice and wonderful experience in this swiss it academy , madami po ako natutunan at malaki tunlong para sa akin lalu sa paghahanap ng work ko at paglago sa career ko. madami pa kayo matutulungan sa pagkakarun nito Godbless
John Angleo Dela Cruz
Sir Fon's teaching strategy works well for a beginner like me. Everything is simply explained and is executed well. Whenever I have questions he tries his best to explain things plainly. He's full of patience, by the way. He also gives great tips and techniques when designing. I think what makes my learning experience under Sir Fon standout is the way he shares both his good and bad practices when he was still starting his career as a designer.
Julie Anne Guinto
I would like to give thanks to all constituents of Swiss I.T. Academy for making this opportunity possible and setting beyond boundaries for people like me, who aspire to be a better artist.
Alora Natal
I will always be grateful for this opportunity, na nag'enroll ako sa Visual Graphics Design NCIII. Sobrang dami kong natutunan kay Sir Fonacier about sa graphics design and sa mga design softwares like Photoshop, Illustrator and InDesign. 🙂
Jeanelle Ravalo
This is my second time here in Swiss IT Training Center from Photoshop Beginner program to VGD and i learned a lot about PS and Illustrator. The Instructor are very approachable and the system unit we used are very useful and high tech, conducive learning environment and affordable course fee because of their staggered payment.
Mildren Panol