Web Development Level III
Create your Webpage through programming!
Available for Beginners!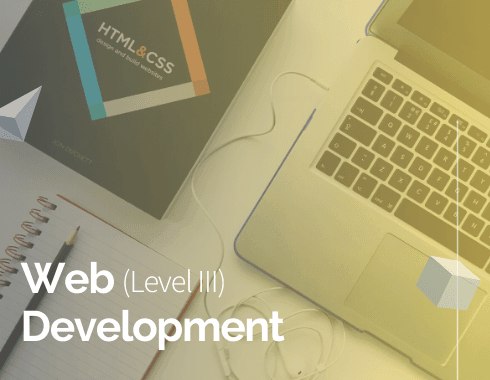 This course is designed to develop & enhance the knowledge, skills, & attitudes of a Web Developer in accordance with web development industry standards. It covers the basic & common competencies in addition to the core competencies such as to develop responsive web design, utilize software methodologies, create interactive websites and develop basic website backend.
Utilizing software methodology
Developing responsive web design
Creating inter-active websites (using JavaScript)
Identify web-site backend systems
Individuals who already have a background in web development, and want to be updated with the latest versions, methodologies and frameworks. This can also become a refresher course to those who are familiar with the codes but have not used it for quite some time.
Inspect and analyze HTML/CSS files
Gather and review specifications and requirements
Develop a project plan
Identify project requirements and software methodology
Apply software methodologies
Conduct testing
Perform research and analytics
Identify and prepare design requirements
Design and develop user-friendly responsive Web interface
Develop HTML/CSS website
Use/Deploy website content management system (CMS)
Perform search engine optimization (SEO)
Apply JavaScript to HTML/CSS
Configure JavaScript Efficiency
Frameworks
Web Site Project
Their Tesda accredited Web Development III program provided me enough understanding of the essentials of web development. The instructors are very accommodating, patient and eager to help the students gain knowledge and hands on application of the concepts discussed. Special mention to Sir Fon and Ms. Marci and all the friendly staffs
Renzi Lorenzo
A good experience to build a career in Swiss IT Academy with good facilities. Staffs and instructors are very approachable and kind. Thank you Sir Fonacier and Ma'am Marci, you did an excellent job of making the materials more interesting and explaining it in understandable manner in a short period of time. I will definitely go back here to enhance my knowledge and skills in the future. Highly recommended 😊
James Alava
Instructors are great and talagang hindi ka uuwi ng wala kang natutunan. Facilities po ay maganda. I've graduated sa technical course nila na web dev through TESDA twsp and pinagmamalaki kong galing akong swiss it. Now pursuing visual graphics nc III sa kanila. Thank you po.
Marvin Capa
Every student's wish is to be recognized and be appreciated by their teachers. And that's what I experienced having a training in Swiss I. T. Academy Inc. I highly recommend this school to techie persons and to those who are aiming to be techies. Because there's an assurance you'll learn what you expect to learn with understanding instructors and friendly staffs. 😊
Jenaefer Jenny Retuerto
Good facilities, friendly and accommodating trainers with passion to help and teach one of us to grow and learn new things even in a tight timelines. Special mention and many thanks to our good and highly recommended mentors sir Fon and mam Marci.👌more power Swiss IT Academy Inc.
Christian Cea