Microsoft Office Specialist
Microsoft Word, PowerPoint, and, Excel 2019 with International Certification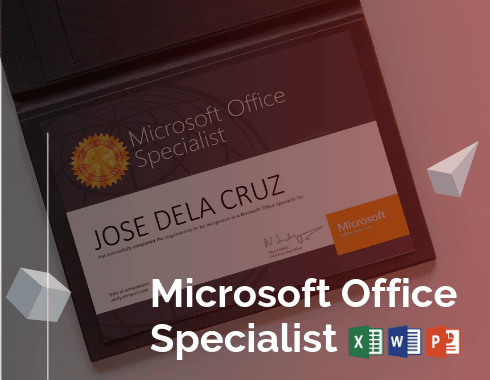 Microsoft Office Specialist Training (MOS) is a 3-day training workshop plus 1-day international certification that tackles beginner to intermediate level of MS Word, MS PowerPoint, and MS Excel applications.
At the end of this training, you will get:
– Swiss IT Academy Inc. certificate with 15 CPD Credit Units (For PRC Professionals)
– Microsoft Office Specialist International Certificate
– Score Report from the Exam
– Gmetrix Access that lasts up to 6 months.
– In-demand and marketable knowledge and skills.
With this, students will learn the basic to intermediate functions and uses of Microsoft Word, Powerpoint, and Excel
Anyone who uses Microsoft Office in their studies, work, business and personal use.
March 9 - 12, 2020 (8:30AM to 5:30PM)
March 16 - 19, 2020 (5:00PM to 9:00PM)
March 21, 28, April 4, & 18 2020 (8:30AM to 5:30PM)
Delivery of the topic was very good. Staff were very nice and accommodating. Facilities are clean and cozy. Overall, it's a great experience. I learned a lot on this MOS training. will surely enroll for other courses in the future.
Elmira Rios
Thumbs up for this school. They surely helped me a lot in learning new techniques in using office applications. Accommodating employees and instructors and a well organized room for your training. Hoping to study more courses in this school in the future!
Levan Mendoza
I Highly Recommend SWISS IT ACADEMY specially for those teachers who wants to earn CPD units, I've learned a lot from the training. The facilities are good as well as the instructors and staff. Enroll na kayo! 🙂
John Marke De Sagun
I enrolled in MOS to improve my computer literacy. And it was worth it. It improves a lot not only the basic use of MOS but there's more to be learned. It was fulfilling experience.
Grace Zell Gallego
The trainor's ability to make the topic interesting. The materials are very engaging.Very accommodating trainor, keep it up Sir!
Ruby Martinez
It was great! I've learned a lot from it especially I am not that computer literate. Looking forward to find more time to have trainings in other fields regarding computer literacy.
Dendie Alforeza
the training went well provided the instructor did not put any pressure. it is enjoyable.
Rowena Ilao
Overall the training exceeded my personal expectations. It is really fun and I want ot give props to the trainor and whole staff for providing complex learning materials. This training really gives the validation of young professionals to explore more.
Grace Ruth Daulat
This training is very heplful for me as a teacher, knowing that Microsoft office is very useful in the field of teaching.
Juriel Efondo
The whole 4-day training is great! From the staff to instructor they are very accommodating the facilties are well organized and conducive. It makes me decide to enroll on this school again in the future.
Myrla Cardiel